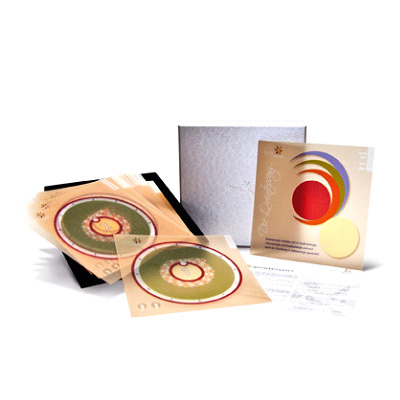 Quintessence
Soul energy unfolds in structurizing energy, life energy and creative energy and is transformed into love energy by living one's soul purpose. The Quintessence is the innerwise healing system that serves to clear and strengthen the 5 basic energies of life. The energies are made available through the number codes and the crop circle symbol on the balance cards.
How to use the Quintessence
Using the test card and the arm-length test, you determine whether it fits to work with the Quintessence. If it does, you intuitively draw the cards that enable the balancing. You place your hands on the selected Quintessence cards and meditate with them. In this way, you allow the healing energies to replenish your energy field as they unfold. With the Quintessence, copying to an innerwise amulet it is no longer necessary.
The Quintessence is like a healing energetic waterfall that can support us to find and live our soul purpose.
45 plastic cards and one test card, 14.8 x 14.8 cm (5.8 x 5.8 in.)