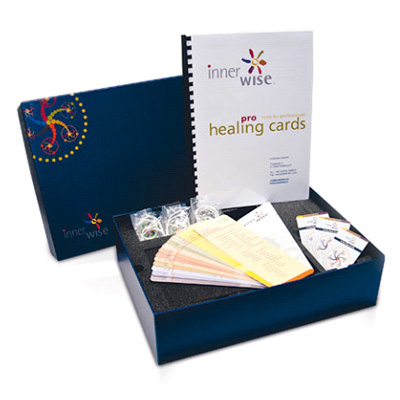 Healing Cards Pro
 Contents:
Instructions (DIN A4, 216 pages),
4,184 healing cards, testing system with 12 test cards and 1 check up, 3 innerwise amulets, 3 balance cards,
Tools for Professionals
After years of proven success, the renowned system is finally available as an affordable version.
The large-scale healing system for professional therapists and coaches working with people, animals, systems and living and work spaces. It includes:
4,187 innerwise frequencies
300 testing complexes on 12 test cards
3 amulets
3 Balance Cards
1 compendium in German
in a sturdy cardboard box
The system is used by physicians, psychologists, alternative health and energy practitioners, coaches, business consultants, teachers, designers—for therapy, coaching, counseling and consulting.
This set is delivered in a sturdy cardboard box.
The cardboard box also offers room for your other innerwise tools (Unconscious Mind Coach, Quintessence) and for additional material.
Alternatively, it is also available in a black aluminum travel case, ready to go!
The healing cards pro are also available as part of the innerwise Complete Set together with the Unconscious Mind Coach and the Quintessence.
Certified as a medical device. Published by innerwise Verlag